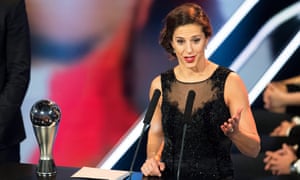 Add caption
Carli Lloyd
Lloyd, who finished with 20.68% of the total votes,
beat Olympic gold medalist Melanie Behringer of Germany (16.60%) and five-times winner Marta of Brazil (12.34%).
"I'm very honored to win this award again," Lloyd said. "I play on the best team in the world and this award would not be possible without my extraordinary teammates, who are fantastic competitors.
We push each other to be better every day. I want to thank Jill Ellis and the entire coaching staff for believing in me and helping me constantly evolve my game. Thank you to the people who voted for me and the fans for showing me such strong support throughout 2016.
"I want to also thank my husband Brian for the unconditional support he's provided throughout this special year. I am looking forward to the start of 2017 and long term, towards qualifying for the 2019 World Cup."
The winners were determined through a combined voting process in which half of balloting was determined by the votes of captains and head coaches from national teams all around the globe, with the other half split between an online public ballot of football fans, and votes by a select group of world media representatives.
Germany did win the women's coaching awards as Silvia Neid earned her second
Fifa
prize. She also won the 2010 award.
Neid beat two previous winners: Pia Sundhage of Sweden, the Olympic silver medalist, and last year's winner, Jill Ellis of the United States.
www.theguardian.com