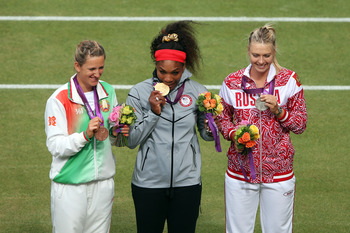 Gold: Serena Williams, USA
Silver: Maria Sharapova, Russia
Bronze: Victoria Azarenka, Belarus

With a gold medal win, not only is Serena Williams the hottest female tennis player in the world, she is arguably the most gifted tennis player period. Williams must have a few shares of Wimbledon, because she has owned that place!
Maria Sharapova of Russia and Victoria Azarenka of Belarus had great showings, but this was all about Serena. Team USA is very proud to have her amongst their ranks.